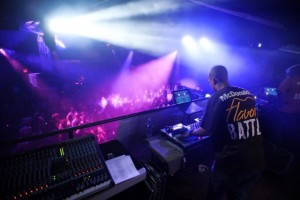 McDonald's hosted the finals of the Flavor Battle, a national DJ comepttion with a $10,000 prize on the line. Admittedly, I'm a fan of DJ music. I find the craft and creativity of top mixers to be great for listening and jaw dropping to watch.  (So yes…I'm a bit of a fan boy)
Tweeting from the event was not only fun, but it helped drive home some lessons and planning:
Have a simple plan: Our challenge was pretty straight forward–to take an event at a small club in NYC and make it more social. That included setting up a USTREAM feed from the event and hosting a Twitter chat with three folks well known in the DJ community.
Take a "from the couch" point of view: The DJ battle was at a relatively small venue during a huge snowstorm. Even before the weather report looked bad, we knew that our online audience would be much larger than those who were able to attend in person. As such, a major portion of our plan was to drive that experience for folks watching on the Web. We also had tech teams on the ready to address any issues with the video feed. My role was stoking the Twitter conversation.
Don't go it alone: The battle was judged by three fun, dynamic and well known folks. Spinderella @Spindeezy (formerly of Salt n Pepa) DJ Irie @DJIrie, and Rich Nice @RichxNice (amazing producer who has worked with all the big names and got 50 Cent his first record deal). Part of our "ask" of each judge was to join the Twitter conversation around the battle. This started with a Twitter chat for fans prior to the event, which had the dual aim of generating online buzz to drive more folks to watch the battle and then lasted throughout the evening to drive further conversation.
Don't be afrarid to be careful: At times, the DJ and Hip Hop communities can use colorful language that doesn't always fit with McDonald's G-rated brand image. To help mitigate the risk of blue language in our Twitter stream, I conducted a 10 minute pre-game session with the celebrities where I asked them simply to "be yourself, but let's keep this PG…or PG-13 at least. There might be some kids and moms out there."
Don't forget to say thank you: To your Twitter followers and conversation drivers.
Admittedly, none of these lessons may be particularly eye-opening, but given that social media tends to be a "connect through the screen only" experience, it is always refreshing to step away from the office and gain a different perspective.
Rick Wion