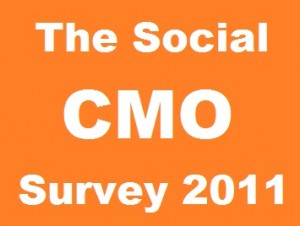 For our 400th post on the Social CMO blog, we thought it was important to share something new and momentous with all of you!
With this in mind we are today introducing The Social CMO Survey and hope to get input and feedback from all you Social CMOs and aspiring Social CMOs out there! Take The Social CMO Survey!
The results of this survey will give us a better handle on where chief marketers and senior marketing managers are at today with Social Media and most importantly where they are going.
At the same time, these responses will allow us to develop a better picture of current CMO personas, how these are evolving and where they are headed as we continue to move forward into a social digital marketing future.
So what are you waiting for, take a few minutes and contribute to this important research! Every qualified participant properly completing the survey will be sent a summary report of the results once they are tabulated.
Here's the link to The Social CMO Survey and we look forward to the responses from all you Social CMOs out there!
Cheers
Jeff Ashcroft