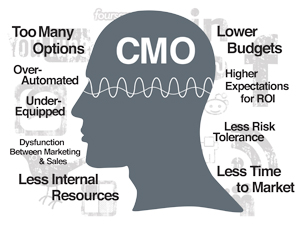 I recently had the opportunity to be the keynote speaker at the "Ignite Your Growth" Conference in Atlanta at the new HP Graphic Arts Experience Center. Knowing that the audience would consist of printing professionals interested in growing their businesses, I thought it would be interesting to discuss an individual they probably have on their prospect list – the CMO.
As a B2B marketing agency, CMOs are one of our targets as well, so we do our best to maintain a persona profile of the typical CMO. That is, we try to think like they think so we can create compelling content that will interest them.
The mind of the CMO is overcrowded and overwhelmed.
They're thinking about customers, prospects, influencers, decision-makers, the competition, the competition's customers, content marketing, lead generation, conversion rate, ongoing analytics and a need to for a flexible strategy and proven ROI on a limited budget. And they probably had some staff cutbacks within their department, so they're challenged with doing more with less.
Printing is probably the last thing on their mind. And that's unfortunate, because it may be a more vital part of the marketing mix than ever if it's used intelligently. The first place many companies cut their marketing budgets is with printing. And if a company hasn't kept up with all the dynamic ways printing can be customized, segmented and integrated with online media, they consider it to be "nothing new" and not part of the discussion.
The CMO is also thinking about marketing automation, CRM, lead scoring and sales. For most CMOs, I think the musical chairs game of options has stopped and they've decided on one of the many capable vendors (Marketo, Genius, Eloqua, Pardot, etc.) for their automation, another for their email (Silverpop, Constant Contact, My Emma, Blue Sky Factory, Exact Target, etc.), and yet another for their CRM (Salesforce.com, SAP, etc). Some CMOs are working with legacy systems and in-house programs that are carefully guarded by their IT departments, and not nearly as accessible and flexible as they would like.
And on top of all this, any CMO who hasn't been in a cave the past three years is inundated with questions, conversations and both good and bad information about social media. Where meetings years ago were filled with references to branding, today more are about inbound marketing, conversations with customers and conversions of prospects to leads. They may even be blogging.
So how does a printer, or agency such as mine, earn mindshare with a CMO?
It's a very crowded and confused space already, so it helps to narrow your positioning and not make the mistake of competing with everything else on their mind. To make matters worse, many larger companies now utilize purchasing platforms that reduce many of their vendors, especially printers, to a commodity, and no longer consider them to be strategic partners.
Have I painted a picture for you? Do you agree the mind of the CMO is a challenging place to earn marketshare?
If you're reading this, you're on the Social CMO site, so you must either be a CMO or be interested in social media and CMOs. This is the first of a two-part series, and the second one will discuss how I believe the mind of the CMO is more open than closed to new ideas and helpful resources.
Billy Mitchell
Billy Mitchell is the president and senior creative director of Atlanta-based B2B marketing firm MLT Creative. Located on the east side of Atlanta, GA, with a Northeast office in Rhode Island, Mitchell co-founded MLT Creative in 1984 along with partners Craig Lindberg and Glenn Taylor.
Known as the Idea Launch Pad for B-to-B marketers, MLT Creative's services include strategic planning, positioning, brand development, advertising and sales promotions for business-to-business clients.