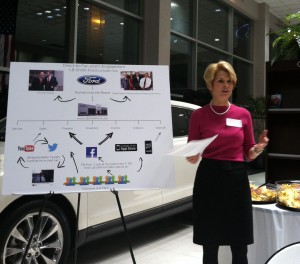 Whenever I speak to a group of young people, I learn something from these bright Millenials—it's a mini-focus group that helps me stay connected to the ideas, curiosity, and adaptability of digital natives. Whether I'm sharing with a social media savvy audience at Social Slam in Knoxville, TN, or with a small group of students who are members of Harrisburg University's Social Media Club, I reinforce that managing our reputation online is imperative.
As founder of the Harrisburg Social Media Club and owner of a marketing/PR firm that integrates digital into every client's marketing plan, I see the power of positive personal branding firsthand.  Although the channels have changed since I graduated from college decades ago, the same rules of good manners and self-discipline apply.
In brief, here are 5 tips that will help students, job-seekers, and aspiring executives build a brand to be proud of:
You are who Google says you are. The first action of a recruiter or employer is to research who you are. If you don't like what you see on the first two pages of Google, then start some intensive storytelling! We all have the choice and opportunities to tell our story or let our competitors tell it for us. Choose the channels carefully, and start to share your smart facts, career news, community passions, and dreams. Start a blog, write an op-ed, and comment in forums to begin building your brand and reputation online.
Your Digital Tattoo is the most powerful dossier on the planet. It's available at a finger's touch; it's the clearest picture of who you really are; and it shows self-discipline—or the lack of it. Before I ever reach out to call an interviewee, I will do several Internet searches including on Twitter, Technorati, and YouTube. Employees need to make sure their online brand sends a positive message to an employer and encourages recruiters to take the next step to schedule a meeting.
Employers are anxious to have spirited, eager-to-learn young people in our offices. I have met some dynamic and energetic young people on Twitter who will surely be tomorrow's business leaders.  Based on their interesting tweets and fresh thinking, I have arranged in-real-life meetings to see if they'd be a good fit for the mission and vision of our company. Even larger firms are listening online to find the best and brightest. Sophisticated social media tools are powerful for marketing and recruitment, but a business's most important assets drive out of the parking lot every evening—people.
The bad news is that your personal brand is in your own hands. At the risk of reinforcing common sense, there is no Code of Silence on social media platforms. I wince every time I see an inappropriate picture on Facebook, Twitter, or Instagram. Even if you take the image off the Internet, anyone can snap a screen shot of your beach photo or under-the-influence photo and it lives forever. Think you're tweeting to a small band of friends? The Library of Congress is archiving the world's tweets—all 170 billion of them! If your content and comments are vulgar, obnoxious, or offensive it can be a barrier to a job interview. Do you have the freedom to post whatever you feel? Yes. Should you post whatever you feel? Absolutely not. Ask two friends to hold you accountable for your content. In the era of digital communications, self-discipline is a highly valued skill.
The good news is that your personal brand is in your own hands. How you tell your story is as critical as what major you choose. The Internet is the Director of First Impressions, and you hold the keys! Reach back into your archives and make sure good community service content is posted on your channels. Last May, my son Benjamin was honored as PECAN's Role Model for Youth in the Arts Award, in Pennsylvania. The organization's founder told me that one of the defining moments in the judging process was when they researched Ben Gallaher Music online. They learned from his YouTube channel that he is an Eagle Scout. Deep down in the video queue is a 5-part series on Benjamin's Eagle Scout project. It was from four years ago! Information like that is a serious brand builder and sends a strong message to employers that you're goal-driven and demonstrate project management skills.
What are your tweets and posts revealing about you? Be kind, be helpful, be smart, be found—for all the right reasons!