Theme #2

From 7 Part post series exploring The Evolution of Brand Stories & Themes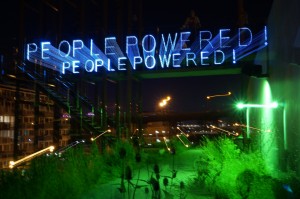 As human beings, we know that aggressive communication doesn't bring people closer.  Instead, it repels most people away and undermines the chance for dialogue and relationship.   Yet somehow when it comes to the communication and marketing of brands, this very basic human principle is perceived as a weak and ineffective approach to building business.   In brand marketing the merits and impact of mass media align more with the concepts and success principles of manufacturing than that of human/social dynamics.
Before social networks, mass media was the only option businesses had to market and connect their brands to people.  This "pay to play" business model defined successful brand connections as the result of more aggressive tactics, larger media budgets and ubiquitous market presence.    This approach meant that not only could a brand be "top-of-mind."  But it can also buy its way into people's lives– welcomed or not.  From a mass media perspective, this dominating level of brand presence represented "success."    Contrast this with social networks wherein power is derived not from strength of force, but from the strength of emotional engagement and relationships.  The growing influence of social media is proof that there is another, and even more powerful way, of connecting brands to people.  Social networks are a reminder to all that quality – not quantity, of connections can make all the difference.