Social media is radically changing the way we relate with our environment, at large. People, brands, companies all want to communicate with their ecosystems. Amongst social media platforms, Facebook is the heavyweight, whether for individuals, brands and companies.
Facebook has been initially developed for individuals and business pages were first intoduced in 2008. Now that brands and companies are flocking onto the social network, they must adapt the platform to their business needs if they want to remain relevant.
A recent article from Jeffrey Cohen detailing why Facebook is doing it wrong for B2B businesses makes me want to extend the thought and say that they are doing it wrong for all businesses.
I have identified three major areas that would need improvement as businesses Pages need to be flexible enough to evolve with the company's need and business purpose.
The first area that needs major fixing is in Page creation. Most businesses Pages have been created through the personal account of the staff that created the Page. As a business, you have to think about what happens when that staff member moves on or changes company? When I come onto a project, most social media assets have already been created and the page creator is the owner of the Page forever – at least until Facebook decides to change that feature.

Facebook Page admin rights
The second major improvement I would like to see is that Profile Pages cannot be converted into business Pages. I started a Profile Page a few years ago, and now as a business consultant, I need to use the equity of my Profile Page towards my business practice. Creating a new Page does not make sense for now, as I am a solopreneur and I do not want to have to redirect my contacts towards yet, another page. I work with entrepreneurs and solopreneurs who run into the same challenge; they are using their personal brands for business and need to be able to convert their personal Profiles, if they choose to do so, towards a Business Page, where they would get more visibility and business features.
In the meantime, I can always use professional applications such as Linkedin, Professional, and News to leverage your personal profile towards business purposes.
Finally, the third major flaw is that once a business has chosen a Page name, it cannot modify it. Facebook states in its help page:


Facebook Help for Pages
While this may not be incredibly dramatic, it would be useful if for example, the company wishes to change name in an effort to rebrand. Earlier this year, Comcast pushed Xfinity for its cable, Internet and phone services. As you can see on the screen shot below, Comcast is still Comcast. Not Xfinity.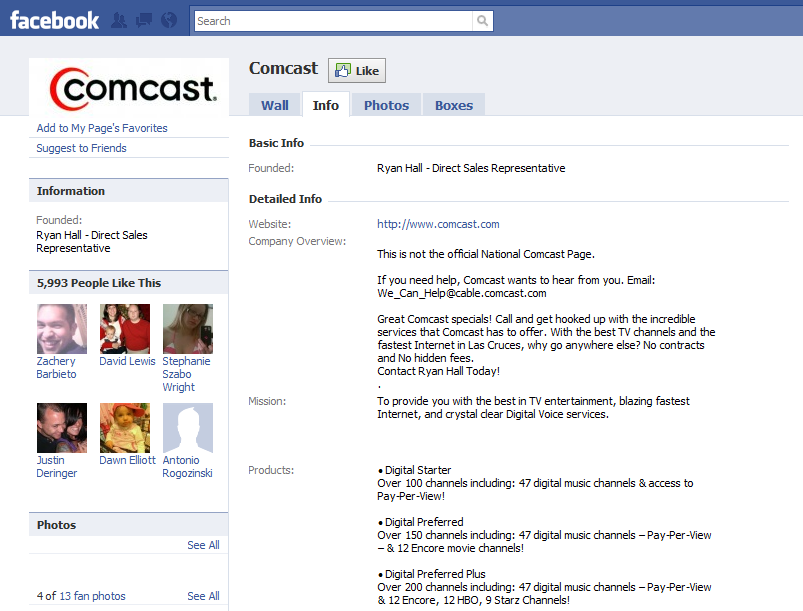 Comcast Facebook page as of April 26, 2010
For now, One option, for a business who rebrands its name, is to delete the Page and recreate a new one. Thus, losing all the equity of the current company Page. The other option, is to keep the old name, thus, running the risk to confuse and frustrate even more its fans.
What do you think? Are there other features you wish to find on the Facebook business Pages? Let me know.