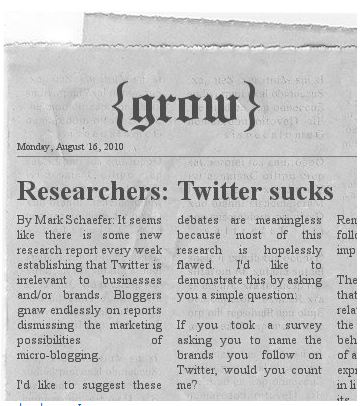 Every week it seems there is some fresh research establishing that Twitter is irrelevant to businesses and/or brands. Bloggers gnaw endlessly on reports dismissing the marketing possibilities of micro-blogging, calling for the death of Twitter.
I'd like to suggest these debates are largely meaningless because so many of these reports are hopelessly flawed. I'll demonstrate this point by asking you a simple question:
If you took a survey asking you to name the brands you follow on Twitter, would you name me?
I'm guessing that you wouldn't, because you relate to me as a person and possibly even a friend, and yet I am certainly also a personification of my company and its "brand" on Twitter. I would be overlooked in any research report looking for how people relate to "brands" on Twitter, wouldn't I? And lots of other companies would be missed, too.
For example, Amy Howell is the personification of Howell Marketing of Memphis, but I am following Amy because I like Amy. Megan Parker is paid to be a voice of GE on Twitter. I love her irreverent spins on corporate news and sometimes don't even connect that in fact, I am following one of the largest companies in the world. Everyone knows how fun and effective Chris Brogan is on Twitter yet make no mistake that he is the personification of his growing new media fiefdom. When you follow Chris, do you even think about him as a B2B company?
Here's the deal. If research focuses on the benefits of Twitter for "business-to-business" or "business-to-consumer" it's doomed because this channel is ultimately about P2P — person to person. In fact I would suggest that with few exceptions, ONLY "personal" brands thrive on this platform. I can't imagine following a bottle of beer or a restaurant chain on Twitter yet I would eagerly follow real marketing professionals from those companies who can enlighten, teach, and entertain me.
And that's why so many of these research reports are missing the point. They're asking the WRONG QUESTION. In fact I think it would be very difficult to measure the complete business value of Twitter across the social web quantitatively — many of the successes are "stories" of connection or qualitative data points. But I'm sure companies will keep trying to reduce Twitter to a list of survey questions because it's easy to do, it's a hot topic, and it's a way to get their name at the top of the wave for a moment. And so many of these reports are being rushed to a data-hungry blogosphere without regard for statistical validity!
So, how many of the individuals I follow on Twitter represent brands or companies? Just about every one of them! And THAT'S the point!
Does this make sense to you?
Mark Schaefer