I recently found myself in a heated debate on Twitter about the ROI of social media. In one corner sat those promoting 'there is no return on social media…yet' and in the other sat myself insisting 'it's not only possible, it's happening.'
The skeptical side of me wondered if those who are promoting the 'no ROI from social' stance are those who are truly generating 'no ROI from social' and are perhaps looking to substantiate that result. But then again, maybe I was wrong. After all, there were some pretty smart people in that opposite corner publishing blogs on Huffington Post and ClickZ – all reaffirming the belief that Social ROI does not exist.
But after further consideration and more research, I'm sticking to my guns. Social media ROI is not only attainable, it should be expected. The harsh reality is that most business executives measure value in terms of financial metrics – not fans. While it's true that the long-term benefits from real engagement through social media will likely be far greater than any of us realize today, it's also true that many companies are positioned to start delivering financial returns now, particularly strong CPG brands.
The game will change in 2011
For most CPG companies today, 'we need a social media presence' means Facebook and Twitter. Although deeply simplified, this strategy plays out a lot like this:
How many fans do we have? Hooray!
How many are following us? Hooray!
How many times is our brand mentioned on the social web? Hooray!
By all accounts, the results exceed expectations. But while you're patting yourself on the back for attracting a social following, understand there's someone within the company scratching their head and asking: So what? How is this investment bringing me any value?
With 2010 coming to a close, there's no better time to change the game. As we prepare to report our marketing successes in 2011, the question should no longer be 'can you prove ROI from social media?' but rather 'why aren't you?'
Here are 5 things you need to know to deliver social media ROI. (The embedded presentation at the end of this post provides additional details and visuals.)
1. Facebook and Twitter are not social
The tools themselves may be social, but for most companies this new 'social channel' is used no differently than a traditional marketing channel:
Pitch a message
Hope something sticks
Offer up a promotion, discount, coupon
Wait for customers to bite and share the good news
Olivier Blanchard illustrates this well in a recent post that describes 'why your social media marketing campaigns aren't working.' Becoming proficient on Twitter or Facebook isn't really 'social' at all. In fact, in most cases, it's nothing more than an extension of your push marketing.
2. Facebook and Twitter ARE valuable
Still, Facebook can serve as a crucial first step in driving social ROI. If you are a brand that has established your social presence with a substantial following on Facebook – congratulations! You've proven the ability to engage consumers, ignite their passion and create the foundation from which your company can achieve great success with social.
Well known CPG brands are among the leaders. Converse and Victoria's Secret rival as the top retail brands on Facebook, with 9 million fans. It's mind-boggling, really. There is an entire generation of customers who are at the ready, eager to share in your brand online! Look at the Facebook fans of these familiar brands (as of this writing):
Revlon: 212,000
Playstation: 5.7MM
Nike: 3MM
Pottery Barn: 182,000
Bath and Body Works: 1.1MM
Target: 2.7 MM
Hanes? OK, so how engaging can underwear be? Yet Hanes has 219,000 Facebook fans!
The 'fans and followers' of these companies, along with other well known brands like Forever 21, Kohl's, Hollister, Gucci, Target, Levis, show some pretty savvy marketing behind these brands. They've tapped into consumer passions and have gotten these fans to the game.
But the game has only begun. The next step is getting them onto your playing field where they can help you score. Focusing on CPG brands, this particularly game is about revenue – eCommerce revenue to be specific. And here's how it works.
3. The online community enables you to win
In an interview earlier this year with NRF, Williams-Sonoma CMO, Mr. Pat Connolly, talked of the importance of online communities, confessing he's a big believer in what he calls, 'people like me.' The opinions of other people who share our interests are significantly more influential than corporate marketing speak. In fact, eMarketer (February 2010) reports that people are 12x more likely to be influenced by peers you're your corporate messaging.
So it makes sense, then, that we should leverage social channels for interaction and the ability to empower customers to drive our business forward – not to push messages at them. Going back to Olivier Blanchard's post – he's right when he says this isn't rocket science! We only need to treat social media as we do every other part of our business: with scrutiny, good judgment, and an eye on results.
Social networks like Facebook and Twitter are a necessary part of a social strategy. But a financial-oriented strategy is not only about engagement, it's about capitalizing on that engagement. Branded online communities enable you to bring the interaction into your world rather than pushing your million+ fans to collaborate on Facebook, YouTube, or other third party site. Within your environment is where they can buy, share stories, learn from others, discover new ideas…all roads that lead to new revenue opportunities that can catapult your eCommerce revenues.
To illustrate, let's build a 'what if' scenario that picks up where Mr. Connolly's interview left off, using one of my favorite Williams-Sonoma brands, Pottery Barn. (Disclaimer: we have no affiliation or special interest in Pottery Barn – other than the fact that it's just a really cool brand that we think our readers can relate to!)
4. Here's how it works
Using screenshots taken from Pottery Barn's Facebook wall, here's a look at three common tactics that most brands use when 'getting social' on Facebook:
a) Push a message or promotion: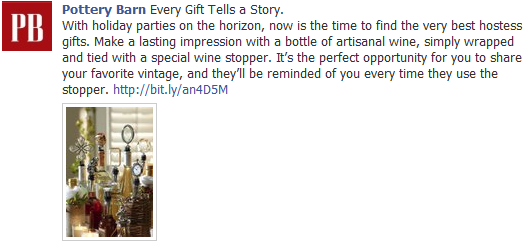 Facebook fans see this posting and curious customers may click the link. They'll arrive at a stagnant web page to find information about the particular product or promotion. But once there, there is no additional interaction to draw them further into the site and create another path to revenue. Additionally, the tactic is much like a print ad: after a few days, the message is lost in a wall of chatter and likely not seen again.
b) Fans turn to each other for help and advice
Peer recommendations and advice are key influencers to purchasing decisions, and your brand advocates can be your most powerful and effective sales force. But Facebook is not the enabler of this valuable interaction.
In the example above, there is a very limited audience that benefits from the answering of questions or sharing of information. And when one customer advocate offers to share her experience by sending before/after photos, how many other fans might be quietly observing the conversation, wishing that they too could learn from those photos? While 'Cameo Harmon' may eventually find the right paint color for her kitchen, how does that translate into more sales for Pottery Barn?
c) YouTube is home to video content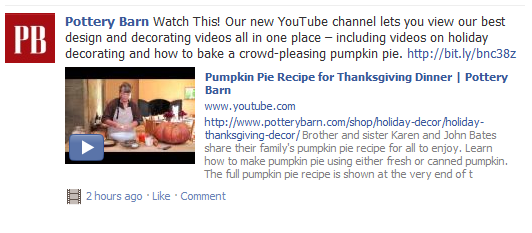 Social media users love videos! (Last year's comScore study revealed that over 86% of the US population views online videos.) Leveraging the consumer's desire to view content, Pottery Barn drives consumers to its YouTube channel for design and decorating videos. The channel is superb, with fabulous videos and expert advice from Pottery Barn's network of professionals offering 'how-to demonstrations, inspiring interviews, and exclusive style tips.' They're so good, in fact, that I'm a little disappointed that I'd never seen them before! But the videos cannot be seen from the Pottery Barn website (which is where I'm shopping), where the brand could smartly monetize the content to drive more sales.
In contrast, here's how an online community can take what's been started with Facebook and skyrocket revenue:
If the first Facebook posting example had led curious consumers to that same gift-giving promotion, but instead of a stagnant web page they were welcomed with interaction, conversation and ideas from 'people like me,' my thought process and experience as a visitor would have looked more like this:
$$ BUY Yes, that's the perfect gift for Ann. Let me check it out. CLICK…
$$ DISCOVER But wait…wow…look at how someone else decorated that holiday table. I'm hosting Christmas dinner this year. That is gorgeous! I want to see more. CLICK…
$$ LEARN I notice the featured video, "how to spruce up your bathroom for under $500." Look at what a difference those towels made. That alone would freshen up my bathroom without costing me a fortune…
$$ SHARE I can't wait to tell my friends about all these great resources (CLICK CLICK means referrals!)
Notice how many different paths can be taken, yet each one leads to the same outcome: revenue. In this example, not only have I bought the wine stopper, but I've also purchased a new set of towels – and now have a holiday place setting in the back of mind. The online community has provided:
Stronger customer engagement
Multiple ways to drive revenue
A valuable resource to consumers, which translates into greater loyalty and repeat purchases
More reasons (and avenues) to share my experiences and recommendations through social channels – driving more referral business
5. Consider the possibilities
If your website visitors were greeted with this type of interaction, what might that do to your conversion rate? Our customer Kodak Gallery (reported in CRMBuyer) saw a conversion rate of 10% – sometimes reaching as high as 25% – in their online community. And those members spent 50% more than other customers. Apply those metrics to your own business model and you start to grasp the impact of an online community, and its ability to drive millions of dollars of revenue to your bottom-line.
That's just a quick rundown of the benefits that are readily apparent. But if you look a little deeper, you'll find that there really is no substitute for the wealth of information that an online community can provide:
Content that you own – An abundant supply of content (current and archived) that is ALWAYS available to you and to your customers with a quick search on keywords/tags.
Data you can learn from – Real analytics that provide the data needed to gain insight into your community and drive ROI – customer behaviors and preferences, the ability to identify the primary influencers in the community, understanding what content is the most appealing to your audience, learning which marketing campaigns elicit participation and action.
Results you can deliver – Remember those skeptics in the beginning of this article who question what kind of value all this 'social media' is bringing to their business? They won't need convincing after you show them the numbers. In fact, you'll probably earn yourself a nice, big promotion for being a rising star within your company who can help the rest of senior management to learn from your success.
Conclusion
Social networks like Facebook and Twitter are a necessary part of a social strategy. But a financial-oriented strategy is not only about engagement, it's about capitalizing on that engagement. Through an online community, you can draw consumers into your own environment where you can guide, influence, and most importantly empower your consumers to advocate for you. Only then can you transform social interaction into social commerce.
For some businesses, this 'social evolution' is a slow process, or it has yet to begin. Others are well positioned to execute this strategy now and begin delivering results in 2011 – particularly consumer-oriented companies with the following characteristics that are typically found in a CPG related industry:
You have a business that consumers are passionate about (think carefully about this one. Socks may not sound too exciting, but recall the number of 'fans' of Hanes!)
You've seen an online interest in your brand and have established a strong social presence through Facebook or Twitter
eCommerce is a growing part of your business
You can benefit by increased sales revenue
If this describes your business, the question is no longer 'can you prove ROI from social media?' but rather 'why aren't you?'