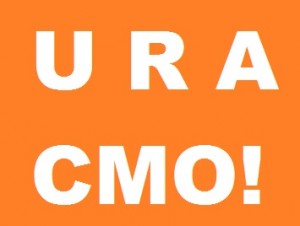 No matter where you work, what your role is, or who you are, in today's transparent social media world we have all become Chief Marketing Officers!
Every task you perform in an organization, regardless of your functional area, has a downstream impact on the customer. What makes you a CMO is that your firm's brand and reputation rides upon everything you do, as well as the passion and personality you put into doing it.
For those many, many entrepreneurs out there I probably don't have to tell you this, you already know that in the end the buck stops with you for everything. But for those of you without marketing backgrounds you need to take deliberate actions like a CMO to get the branding help you need, and then on personal and/or company levels figure out just what your brand is, how to expose/expand it and ultimately how to become socially focused for long term brand survival as @JeffreyMolander shares in his recent post Brand Survival for 2011: The socially-focused organization!
If you haven't done so already, you need to of course get the basics done right, like your company graphics created professionally, seriously think about starting and maintaining a blog with "No Fear" as encouraged by @MarkWSchaefer and never forget the advice of Amy @HowellMarketing as in the end "You are what you tweet!"
For those planning a sustained social media presence, you will have to of course give serious thought to how you develop your personal online brand, and can start with @DebWeinstein's The Strategy and Tactics of Social Brand Building.
Next maybe think about getting yourself a VideoBIO for personal branding like this one from William Arruda, then progressing onwards to adapting, using and formulating methods and tools to guide you such as @BrianSolis's The Social Compass is the GPS for the Adaptive Business
So as you and your company progress further into the use and application of social methods and tools in your business, remember to constantly maintain your focus, and always remind yourself and your people that in the end "We are all Chief Marketing Officers!" The power is now in you!
Jeff Ashcroft