THEME#7 OF POST SERIES ON HUMANIZING BRAND STORYTELLING
Not all brand stories are created equal. Nor do they have the same social value. The traditional process of brand storytelling that uses advertising, collateral, digital etc., is a process owned and lead by a brand/business and their agency partners. Such forms of brand communication will usually attempt to talk "to" people through an out-bound (push) marketing approach (see Theme #2 regarding Mass Media Push). Contrast this to brand stories born externally, crafted by people about brands, and in collaboration with brands. These stories are usually inspired by direct experiences, emotional connections, and engagement opportunities that allow people to be heard, and/or co-create directly with brands themselves. The outcomes are people-powered brand stories that represent a new form of value, or social currency. As more than 80% of all online content is now user generated, the value of user generated brand stories will only grow exponentially. The social currency value of content will ultimately depend on the perceived authenticity of the story itself, and the share of human versus manufactured voice, within brand communication.
Determining communication value should not be based on criteria set forth by business. But on the basis of understanding and the trust that people have in what is being communicated. Trust is the basis of value. And trust can only be generated if the intent is pure, unbiased and represents a "fair" evaluation. This is why communication that comes from people offers greater value as "communication" than "marketing communications" which is created to communicate the intent and biased focus of a business. The way businesses create communication only reflects what it is they value and hope others will see and believe. It is not a human form of communication but a manufactured process of creating marketing communications. Yet in business, when brands refer to their "brand story" it is usually in reference to content that they create themselves. Not that which has been created about that brand.
PEOPLE-POWERED STORIES
Creating communication, and creating to communicate to others, represents a world of difference when it comes to intent, impact and value. In business, marketing communication is a production process created with the intent to sell. True communication is a human act that serves a purely intuitive need – the need to share and the need to know. Human communication, and thereby storytelling can be verbal, visual or self-evident as action. When brand communication is successful, there is a translation that takes place that results in a story. The story is not created by the business/brand but by people themselves. It can either be a review, a post, editorial piece, video or product idea. These stories are all new creations, shaped and shared for purely social reasons – not commercial gain. Such stories reflect what is valuable from a human perspective, and shared with others in the hopes that like-minded will do the same. When content inspires sharing, that is when stories are born.
RECOMMENDATION
Contrary to what you may be thinking at this point, I'm not suggesting that that businesses do away with investing in the creation of marketing communications i.e. advertising, collateral, digital etc. They are a necessary especially in the support of sales efforts and customer service. It is not the medium that is the issue. It is how it is used and relied upon in place of true communication. In a socially empowered world, they are more helpful to the storyteller as visual aids, reference tools, and information sources. But despite all the social networks, there is no brochure, website, or ad that can ever compete with the human interaction, dialogue, or relationship formed between two people. Rather than investing solely in the creation of traditional marketing communication vehicles, business/brands should recognize all content ingredients, regardless of source or form. Greater investment and creative energy should be channeled towards giving meaningful reasons, and positive opportunities, for people to share stories on a brand's behalf, to others.
CO-CREATE VS. COLLABORATE
Co-Creation is about a business enabling interactions amongst individuals for the purposes of creating new value and innovation. It goes beyond "collaboration" as it is more goal and outcome oriented and the relationship amongst participants is more symbiotic. Participants each have a role and an informal level of interdependence. There is greater equality of say on this level of collaborative development. Collaboration can eventually result in the co-creation of an idea. But in general, "collaboration" represents a broader approach to interaction that can involve sharing, give and take, and/or compromise. Also, collaboration can be achieved through mere input, validation, or through consensus building. Take for example the term "collaborative innovation" which is often used today in reference to open collaboration or crowdsourcing of ideas. So far, it is probably the most common approach businesses have used to bring people into in the development process. Such collaboration can ultimately influence what is created. However, external voices contribute rather than steward or actively co-create within the process. A truly co-creative role would give people greater influence and say in what ideas come to life. Moreover a co-creator relationship should also empower the external voices with the tools and support needed to help promote such stories and ideas to others.
Crowdtap is one of the leading companies making co-creation between brands and people a successful reality. They published a great whitepaper on this very topic entitled: The Collaborative Marketing Future: How Co-creation and Advocacy Will Drive Winning Companies. The paper is a powerful case for why businesses should be giving customers a stronger and more active voice in the creation and marketing of a brand. Pepsi and the Mountain Dew's / DEWmocracy initiative is cited in this white paper as a key example of how brands can integrate the customer voice into the co-creation process, and how marketing benefits from such an approach. Mountain Dew generated $85 million in year one sales for DEWmocracy. Moreover, the launch resulted in the highest sales for any new beverage product amongst convenience store brands.
Fiskars: A STORY OF CO-CREATED GROWTH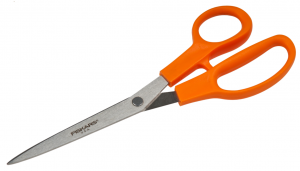 A great example of a brand that has gone one step further by forming a truly co-creative relationship between people and business, is the Finnish brand Fiskars. Founded in 1649, they are Finland's oldest company. About ten years ago the business in the U.S. was in jeopardy due to weak brand equity and commoditization of their signature product, the Fiskar scissors, by knock-off generics nationwide.
Instead of taking the usual marketing/storytelling approach about how great their products are, they celebrated what their customers were most passionate about when using their product. This turned out to be arts and crafts community –especially those into scrapbooking!
In 2006, they created a social community especially for, and powered by their brand fans, the Fiskateers. The Fiskateers program is a loyalty and community group. The website is dedicated entirely to the members, their shared passions and interests. In fact, the content created on the site in the form of posts and shared ideas, are created by the members. There is a true level of respect for the members and a dedicated effort by Fiskars to support and empower their voices and shared interests.
What makes this program truly co-creative are the following:
•Members have a role – Members are lead by other members. Lead Fiskateers attend tradeshows and lead local classes/social events.
•Inclusive – Members come from 50 states / over 5,000 members
•Empowered and Trained– 1,000 are trained and have received certification as demonstrators. Fiskars invests three days of training. One part of the training is spent on why they should NOT be pimping Fiskars within the community.
•Constant Loop of Feedback – Fiskateers will regularly feed new product ideas to Fiskars R&D and tapped to provide feedback on products in development The result is a stronger brand, stronger sales, and endless stories being created and shared by both the people and retailers – not the brand or business. There is a great case study overview by B.L Ochman that provides more details as to the program structure.
Good or bad, the social conversations about brands will go on with or without the knowledge and support of a brand. A brand story can be perceived as being compelling and enriching – or incredulous. Depending on the source and substance, they can strengthen brand perceptions and loyalty – or inspire adverse reactions (or even disdain). As seen in the example of Fiskars, brands can inspire the creation of content that is coveted and shared– versus that which is discarded and ignored. Business need to redirect their focus less so on how well they've been able to successfully communicate their story through their communications. But instead, what reasons have they given people to communicate their brand's story to others.
I am a part of all that I have met – Alfred Tennyson
by Anneliza Humlen of SocialVoice LLC.  / @ADHumlen
This post concludes this post series on Humanizing Brand Stories.   Please join me on Monday May 19th at 8 PM EST on twitter, as I will be the guest on the SocialCMO's #MMChat.  We will be exchanging thoughts on the topic of "Building brands with Social Substance." Hope you can make it!
7 Themes on Humanizing Brand Storytelling: